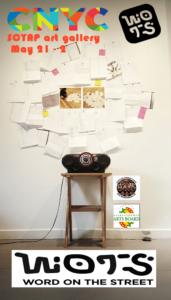 CNYC's WOTS programming is structured to meet our youth where they're at. If they have an idea but lack the technical skills, we work with them to ensure that they can see their project to fruition. The program coordinator works closely with each youth to determine a topic and which form of digital art is compatible for their interests and project. Our youth are engaged every step along the way and have complete creative control.
The programming also focuses heavily on connecting WOTS participants to art-focused organizations and Indigenous artists around the city of Saskatoon. These excursions and presentations provide support, inspiration and the resources to make their ideas a reality.
Finally, WOTS encourages youth to publish and display their artwork both online and concretely in our community. This programming exists to equip young, emerging artists with relevant experience that can contribute to their passion, education or career path. We are thankful to our community partner, SCYAP Inc. for the use of their gallery to share WOTS projects made by CNYC youth with our community.